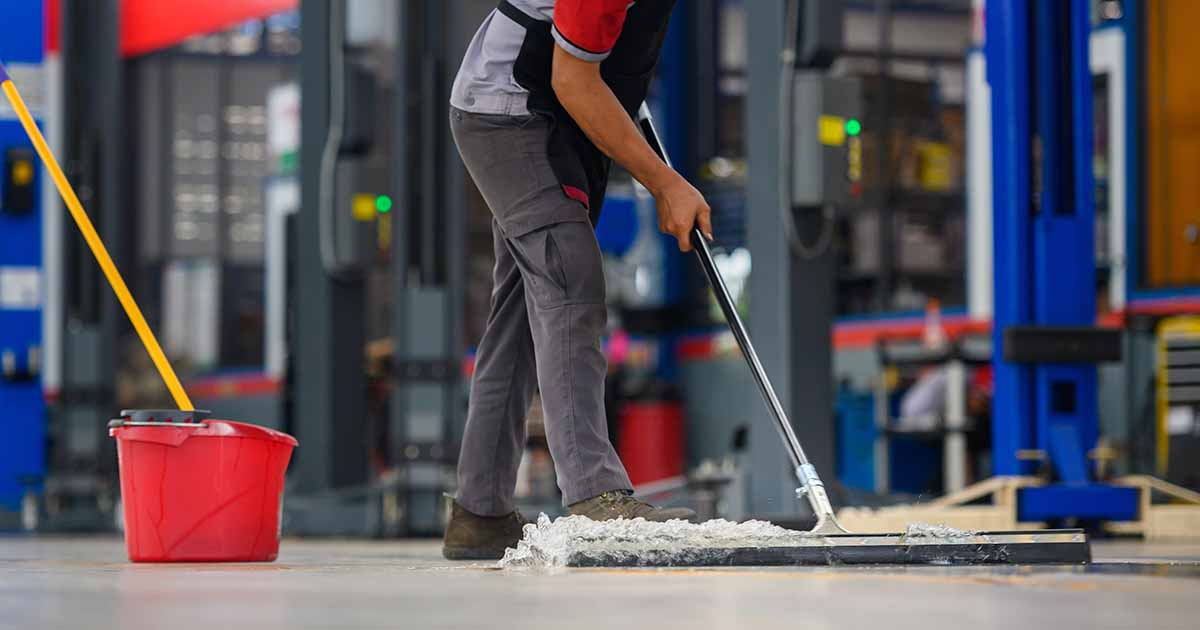 With its superior durability, low-maintenance requirements, and attractive appearance, polished concrete is a top choice for commercial flooring in retail stores, warehouses, showrooms, event venues, and office buildings. When compared to other flooring solutions, polished concrete floors offer cost savings, resistance to heavy foot traffic, a long service life, and limited maintenance. These factors make polished concrete flooring a no-brainer for store and building owners seeking value and efficiency. 
While polished concrete maintenance for commercial spaces is low, polished concrete care and cleaning are essential for maintaining your flooring's protective coating and overall lustre. Failing to clean or maintain it regularly can result in increased wear and tear or damage that requires professional concrete flooring maintenance and repairs.  
Below, we cover some of the top polished concrete maintenance dos and don'ts so you can keep your floors in excellent condition for as long as possible. We also highlight polished concrete maintenance best practices that are key for polished concrete's extended lifespan. Continue reading to learn more about polished concrete cleaning and common polished concrete maintenance mistakes to avoid.
Polished Concrete Cleaning and Maintenance
Cleaning polished concrete flooring is not difficult, but – like all other flooring types - it does require ongoing dedication to maintain, particularly in high-traffic areas. Daily polished concrete care includes cleaning up spills immediately and dust mopping. Weekly polished concrete maintenance includes wet mopping with an automatic floor scrubber in combination with a pH-neutral floor cleaner. We explain each of these polished concrete maintenance requirements in greater detail below.   
Daily Polished Concrete Care

Clean up spills right away!
Liquid spills are one of the top threats to polished concrete floors, so it is important to do your best to address any spills as soon as you notice them. Grease and oil spills are also particularly damaging to polished concrete. Promptly cleaning up spills is essential, as standing liquids can etch through/penetrate surface polish and leave unattractive stains on your polished concrete flooring.
Spills from acidic liquids are especially important to clean up as soon as they happen. This is because acidity easily penetrates polished concrete surfaces. Soft drinks, milk, fruit juices, vinegar, and even some condiments have a high potential to damage your flooring if left to sit. They can leave nasty stains that are impossible to remove yourself, typically requiring professional maintenance to repair. However, even leaving water or cleaning products sitting can also be very damaging, so keep an eye out for those spills too!
After cleaning up spilled liquid, gently wipe or mop the area with water and a small amount of neutral-pH cleaner to ensure there is no residue remaining on the floor. For tougher spills like oil and grease, an oil and grease remover can be used.
Dust mop with a microfibre cleaning pad or fine bristle broom
Just like liquid spills, small particles of grit can also ruin the appearance of your polished concrete flooring over time. This is because the grit is abrasive and will scratch the floor's protective coating, reducing lustre and increasing susceptibility to stains and other damage. 
To avoid damage from grit, polished concrete flooring should be dry mopped with a microfibre cleaning pad or swept with a fine bristle broom at the end of every day (and throughout the day for very high-traffic areas). Be sure to remove as much dirt and debris as possible before wet mopping with an automatic scrubber.

Weekly Polished Concrete Maintenance
Like daily maintenance for polished concrete flooring, weekly care is not extensive. However, it is very important and should never be skipped. While daily cleaning can keep everything looking tidy and reduce the potential of damage from spills and grit, it is not enough to keep polished concrete floors clean and shiny.
Throughout the week, grime will inevitably build up on your floors from foot traffic and your daily operations. Therefore, weekly wet mopping with a non-abrasive, automatic scrubber and neutral-pH floor cleaner is required to lift grime and kill bacteria.
Before conducting your weekly wet mopping, ensure that your polished concrete flooring is thoroughly dry-mopped. Small, gritty particles underneath an automatic scrubber can damage the polished sheen of your flooring. So, pay extra attention to sweeping on your weekly maintenance days.
Common Polished Concrete Maintenance Mistakes to Avoid
To reduce the need for frequent repolishing and refinishing (and to avoid more extensive polished concrete repair), there are a few common mistakes to avoid when cleaning polished concrete flooring, including: 
Not using walk-off mats

Using aggressive scrubbers

Cleaning with water only

Scratching the surface finish with stiff bristle brooms and brushes

Using acidic detergents with hydroxides or sulphates that etch the surface.

Applying your own floor waxes, finishes, and sealers

Allowing spills or cleaning products to sit on the surface.

Rushing the cleaning process

Not working in smaller batches
Now that you are aware of polished concrete maintenance dos and don'ts, be sure to use walk-off mats to prevent the likelihood of damage from wet boots and sandy or muddy shoes. Avoid abrasive scrubbers or harsh cleaning agents, clean up spills as soon as possible, and don't rush the cleaning process whenever possible. 
Avoiding the most common mistakes and being proactive will maximize the shine and longevity of your polished concrete floors and keep them functional and attractive for many years to come.
When to Call in a Polished Concrete Flooring Professional
Even if you have a perfect polished concrete maintenance record, you should plan to review the conditions of your flooring on a yearly basis. This will help you proactively identify early signs of permanent staining, loss of gloss, or other damage that may require support from flooring experts.
In most cases, polished concrete restoration and refinishing will only be required every two to three years. However, with a meticulous daily and weekly cleaning protocol, many polished concrete flooring finishes can last for up to five years before polishing is recommended for ideal appearance and lustre. On the other hand, polished concrete refinishing for high-traffic areas may be more frequent due to increased wear and tear.   
When polished concrete restoration or refinishing is required, you can expect concrete flooring experts, like BNE, to use water-based stripping agents to remove dirt and debris. They will then restore floor colour and shine, followed by the application of floor protectants and densifiers.
Damage beyond regular wear and tear may require polished concrete repair. A qualified expert concrete flooring contractor, like BNE, can assess the damage in your space if necessary and make recommendations as required.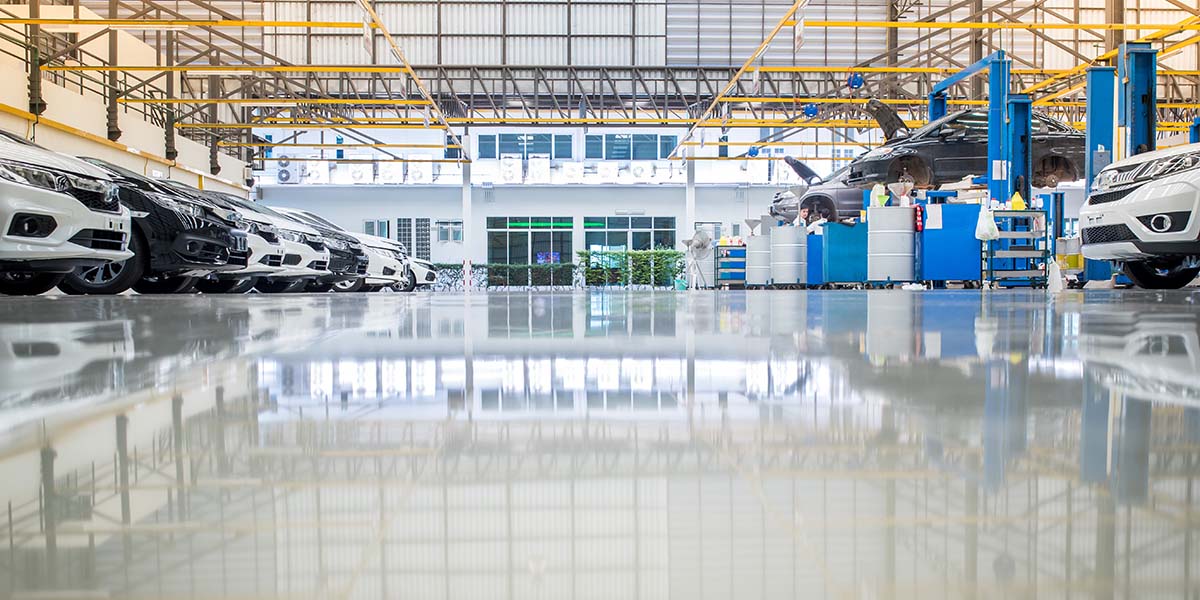 Conclusion
In conclusion, polished concrete flooring is an ideal flooring solution for commercial spaces. It is a top flooring choice for retail stores, warehouses, showrooms, event venues, and office spaces due to its attractive appearance, durability, and low maintenance cleaning requirements.
While polished concrete flooring maintenance is minimal; the daily, and weekly cleaning protocols are essential. Regular cleaning is critical for reducing stains and damage that will require professional polished concrete restoration or repair. Dedicated regular cleaning practices also help reduce wear and tear on polished concrete's protective coatings that are responsible for overall lustre.
Daily cleaning requirements include dry mopping and cleaning up any spills as soon as you notice them. Weekly polished concrete care includes dry mopping, cleaning up spills, and wet mopping with an automatic scrubber and neutral-ph floor cleaner. Avoid rushing the cleaning process, using acidic cleaning agents, and scrubbing with abrasive cleaning pads.
On a yearly basis, assess your floors for damage, staining, or gloss reduction. If needed, call in your local polished concrete flooring expert (like BNE) to help you keep your venue and your flooring looking its best!
Work With BNE for Your Polished Concrete Flooring Project
Are you exploring flooring options for your commercial space? Or are you ready to install a polished concrete floor and seeking experts you can rely on? Then BNE is ready to speak with you about your upcoming flooring project! We are happy to offer our expertise to ensure you find the best flooring solution for your unique needs.
At BNE, we are proud to be an industry leader in polished concrete, coatings, and concrete surface preparation. We have over 25 years of experience working with contractors, architects, property managers, designers, and facility owners in all major industries.
From your initial consultation to the final installation, we make concrete floors and the flooring experience better. From start to finish, you can trust that your project is in extremely capable hands! Contact us today to speak to one of our sales representatives!